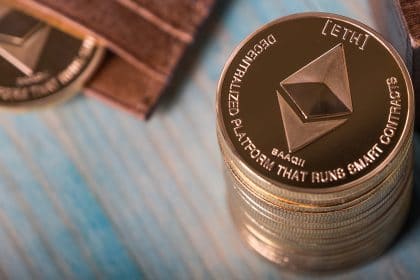 On Thursday, July 9th, ETH is declining a little after the preceding growth, however, it looks strategically confident and may keep on growing further. It is generally trading at $242.
By Dmitriy Gurkovskiy, Chief Analyst at RoboForex.
Ethereum price now and its future movement.
During three months, Ethereum-based applications processed 10 billion USD.
The Ethereum-based Forsage application is considered a pyramid.
On W1, Ethereum price continues the wave of growth now. The price bounced off 50.0% Fibo and proceeds to 61.8%. Then the situation may develop in either way: if the price breaks away 61.8% Fibo, the ascending dynamics will continue with the aim at $265.00 USD; if the price bounces off 61.8%, a correction will begin, and the price returns to 50.0% Fibo. The MACD histogram has been growing near zero or several weeks, which may mean that sellers and buyers are equally strong for the time being; the signal lines are almost under zero as well, indicating the parity of buys and sales. The Stochastic has started growing from 20, indicating growth.
On D1, trading signals look more interesting. The pair keeps developing an uptrend. It has bounced off 61.8% Fibo and the lower border of the ascending channel. The aim of the growth remains at $265.00 USD. The MACD histogram is passing to the positive area, which may again indicate growth. Judging by all the signals, the growth is currently more probable than falling to $212.50 USD.
On H4, the pair is testing the upper border of the ascending channel. Currently, this may mean that the correction will soon come to an end. A breakaway of the resistance line will mean the beginning of growth to $265.00 USD. The Stochastic is now almost at 80, which means the market is overwhelmed with buys. If the Stochastic forms a Black Cross, this will signal a bounce off the resistance line and further correction on H4.
In the second quarter of 2020, Ethereum-based decentralized applications processed transactions for over 10.2 billion USD. The number of active users grew by 97%, reaching 1.25 million people. The number of Ethereum-based applications grew by 2%, amounting to 1959 apps.
Thus, Ethereum has become the most popular blockchain platform for decentralized apps. The most popular platform is Hive: it accumulates some 17% of users.
One of the most popular Ethereum-based apps – Forsage – may turn out to be a financial pyramid – or at least, this is the opinion of the Securities and Exchange Commission (Philippines). They say the application has all characteristics of a financial pyramid – for example, it suggests that the users should make money by attracting new users to the system.
The SEC obliges the creators of the project to register their activity officially while recommending users against using the app.

Author: Dmitriy Gurkovskiy
Dmitriy Gurkovskiy is a senior analyst at RoboForex, an award-winning European online foreign exchange forex broker.